Back
A Successful Customer Demonstration for ETCS Level 3
January 04, 2018
The culmination of a project between Network Rail, ProRail and supply partners, including Thales, December 19th saw the successful demonstration of new ETCS technology. The demonstration took place at Hitchin at the ERTMS National Integration Facility (ENIF) and highlighted the latest developments in digital signalling and train control. The demo was the result of a collaborative effort between Thales UK, Holland and Germany. The event involved an overview of the latest ETCS technology, a demonstration of the trackside system operation, as well as a live demonstration on the Network Rail test train.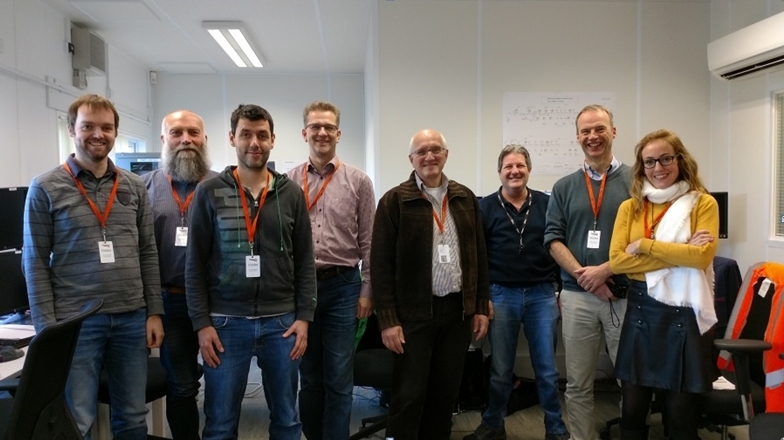 Henk Schomaker, KAM Transportation Netherlands, said "Our participation to the ETCS Hybrid Level 3 at ENIF is important to stay deeply involved in any further developments for the Dutch ERTMS program. ProRail was very impressed with our team performance and the close cooperation with the other suppliers. This demonstration gives ProRail the opportunity to be ready for the deployment phase starting with ETCS Level 2 for the first roll out and being prepared for a variant when it's mature to be used for the Dutch ERTMS program."

Thales UK's David Taylor, Account Director Network Rail, also added that he is "delighted that Thales are collaborating with ProRail, Network Rail and the other suppliers to demonstrate the benefits of ETCS Level 3".
ERTMS has two main constituent parts
ETCS (European Train Control System) and GSM-R (the rail adaptation of the public GSM mobile radio standard). Trains fitted with ETCS are able to operate feely over suitably equipped track in any country. Developed to promote interoperability across Europe, ETCS has been rapidly adopted by operators worldwide. ERTMS is a vitally important system for the future of signalling and train control across Europe and worldwide. Why? Because with the increase in passengers, the existing technology will not be able to meet projected demand in the future.
New developments to the ETCS technology highlight the potential to allow trains to run closer together with less trackside train detection equipment and deliver an enhanced level of reliability from the signalling system.
ERTMS L3 is currently still under standardization
It promises significant capacity gains, further reductions in lineside infrastructure and the potential for train automation. However, further development is required before it can be considered as a solution ready for immediate deployment alongside ERTMS Level 1 and 2. Hence the importance of a demonstrator for a Hybrid Level 3 system to be developed then validated to achieve technical demonstrations in several steps.
Although ETCS level 3 is an exciting development for GTS technology, it is important not to forget the existing applications of this technology's level 2 predecessor. Stretching for 57km beneath the Alps and completed a year ahead of schedule, Switzerland's Gotthard base tunnel is the longest and deepest railway tunnel ever built. Thales' cutting-edge signalling holds the key to getting the most out of this vital strategic asset.
You can learn more about ETCS and what it brings to Swiss rail here. (https://www.thalesgroup.com/en/united-kingdom/news/sending-right-signals)